At Green Dermatology & Cosmetic Center, we value each and every patient testimonial, feedback and review. See some of our patient reviews below!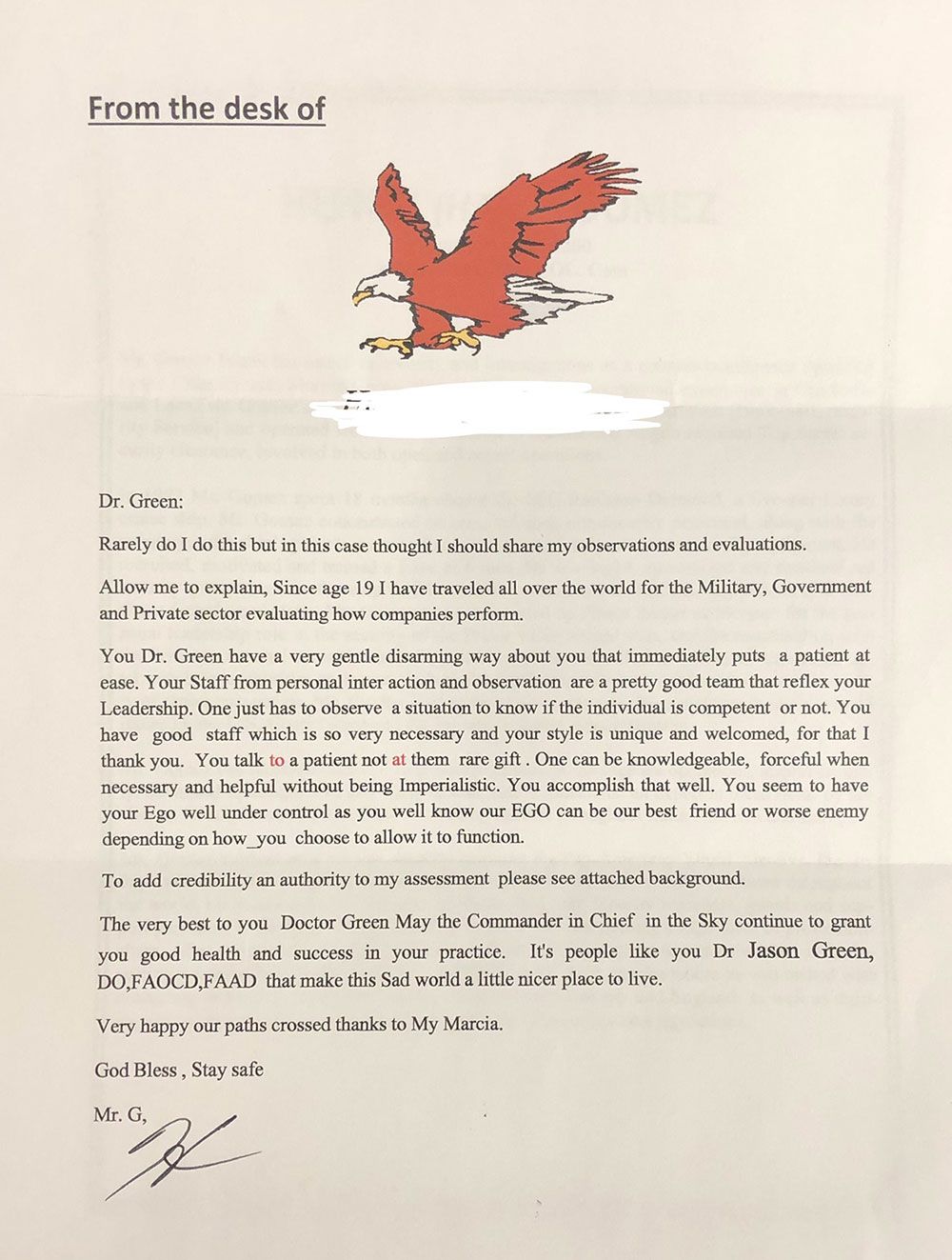 MT, Deerfield Beach
Absolutely love this office, Dr Green is very kind and knowledgeable. Everyone in the office is so nice and makes you feel very welcome. You can definitely tell they care about their patients :)
JR, Boca Raton
Dr. Green and his staff have been a life changer! Thank you!!
Anonymous
We had an amazing experience, thanks so much for all of your help, we are forever grateful.


Anonymous
The reason I like Dr. Green is he takes the time to listen to you & properly evaluate your condition. He explains what he's going to do clearly & why. That's important today with many doctors rushing in & out of your room just to see the next patient. Dr. Green is a little bit of a drive from where I live but it's worth the drive because I trust hi. I have other family members that see him for the same reasons.
G. Michlin
From someone who works in the Prestige Beauty business, Dr. Green's Skin Care products are hands down the best I've come across. Premium, EFFECTIVE ingredients beautifully packaged, they just work!
Truly an innovator with his skincare products, I'm highly impressed and you will be too because achieving totally flawless skin is finally at our fingertips between office visits, yes!! Highly, highly recommend.
M. Strauss
Dr. Green and his staff are the best. Dr. Green is thorough, friendly, and knows his stuff. The new office is simply beautiful with state of the art equipment (and beautiful artwork throughout). I highly recommend Green Dermatology.
​​​​​​​
B. Rask
Beautiful, clean office and a very friendly and professional team. The office ran on schedule and Dr. Green and staff were very thorough at explaining the exam, findings, and treatments. My biopsy and treatment were completed that day and the office called a week later with the results, as promised. I would highly recommend Dr. Green's practice and staff.


K. McCall
The staff is professional and friendly - the second you step foot in the office, you feel warmly welcomed. The office is extremely attractive, modern, and aesthetically beautiful. Dr. Green is very personable and of course, knows his stuff. I thought I needed laser treatment for this one problem, but it was simpler than I thought. First-class derm treatment in South Florida!


W. McNew
You know you've called the right place when you hear, "It a beautiful day at Green Dermatology." The staff is friendly, polite, and professional. Back when doctors made house calls my grandmother would have said, "Dr. Green has a good bedside manner." Indeed he does have good chemistry with his patients. I know that I am in good hands whenever I have skin problems that need to be addressed.