NEW FOR 2019
We are pleased to introduce the Sunetics Laser to our patients at Green Dermatology! This revolutionary technology provides a non-invasive, safe, and effective treatment for anyone suffering from hair loss. Up until now, therapies for thinning hair have been limited and marginally effective. With the Sunetics Laser, the progression of hair loss is halted, follicles are repaired, and new, healthy regrowth is achieved.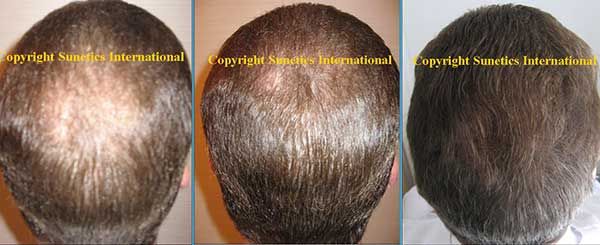 REVIAN RED
Androgenetic alopecia is the most common type of alopecia in men and women. REVIAN RED works in both men and women and is the first and only dual-wavelength, all LED light device that provides uniform scalp coverage. It works by increasing the nitric oxide production, and stimulates the body's natural processes to rejuvenate hair and skin. It's dual wavelength light is a patented method of releasing and regenerating the nitric oxide stored on a daily basis. REVIAN RED is an FDA-cleared medical device for use at home and it does not interfere with any treatments patients may be currently using.

In a randomized, controlled trial involving 81 individuals with androgenetic alopecia, no REVIAN RED users reported any serious adverse events.